Kika Sprangers
Saxofoniste, componiste, arrangeur
YOUNG VIP TOUR 2018
Komend jaar mag ik samen met mijn band de Young Vip Tour gaan doen! Een mooie tour van twaalf concerten langs de grote jazzpodia en clubs. Een grote eer en we kunnen niet wachten tot de eerste show volgend jaar maart. Lees hier het persbericht.
Quintet bij Vrije Geluiden
5 juni waren we met het kwintet te horen in Kytopia bij een speciale uitzending van vrije geluiden. Klik hier om de opnames te beluisteren!
EP 'Leaves of Lily'
Sinds februari is mijn eerste EP uit! Naast studio-opnames met mijn kwintet, staan er ook een aantal live-opnames van het concert met het Large Ensemble in Tivoli Vredenburg op.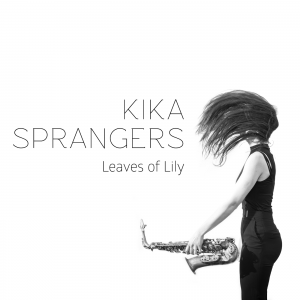 De EP is hier verkrijgbaar via iTunes en Spotify
De digitale download van de EP is hier verkrijgbaar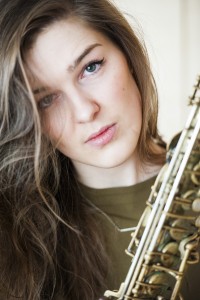 Saxofonist, componist en bandleider Kika Sprangers (28 september 1994) werd in 2015 geselecteerd als leider van de saxofoonsectie van het Nationaal Jeugd Jazz Orkest onder leiding van Martin Fondse. Dit orkest toerde twee jaar door Nederland en stond onder andere op het North Sea Jazz Festival en in het Bimhuis. In 2015 werkte in ze samen met het NJO (onder leiding van Fondse en Steffen Schorn) en het Metropole Orkest. Afgelopen zomer deden zij wederom een project met het NJO, nu onder leiding van Jules Buckley (chief-conductor Metropole Orkest). Hij schreef over haar het volgende: "Great leadership of her section throughout the week, very open and relaxed to constructive comments from Martin and I in regards to ensemble playing/blend/balance etc.. Good solo's and an excellent and concentrated performance spirit. Showed an eagerness to learn and spread good vibes amongst the whole team and all in all was a joy to work with. I can see her certainly doing very well in future."
Dit jaar rondde ze haar Bachelor of Music met een '9 met onderscheiding' af aan het conservatorium bij Marc Scholten en Toon Roos. In de tijd aan het conservatorium is ze ook begonnen zich te richten op componeren. Sinds ruim twee jaar schrijft ze haar eigen stukken die ze momenteel uitvoert met haar eigen formatie. In haar spel en eigen stukken laat ze de melodie en lyriek spreken bovenop een stevig groove. Haar muziek is geïnspireerd door vele stijlen en iconen uit de jazz, fusion. Ze vertelt met haar sax een verhaal aan de luisteraar en vermijd daarbij clichés. Ze zal altijd op zoek blijven zijn naar nieuwe inspiratie en experimenteert live in muzikale conversaties met haar bandleden: Benjamin Torbijn (drums), Danny van Ruitenburg (basgitaar), Manuel Wouthuysen (piano), Eric Brugmans (gitaar). Eind augustus stond ze voor een vol Tivoli Cloud Nine met haar large ensemble, een uitbreiding van haar kwintet met drie vocalisten en een blazersectie (basklarinet, hoorn, trompet en fluit). Eind februari 2017 verschijnt haar eerste EP waar onder meer live-opnames van dat concert op te horen zullen zijn.
Op negenjarige leeftijd begon ze met saxofoon spelen in haar geboortestad Nijmegen. Na een aantal jaar de basis van het saxofoon spelen te hebben geleerd, begon ze bandjes te vormen op de muziekschool en daarbuiten. Op haar zestiende zette ze haar eigen negetienkoppige orkest op waarmee ze in 2012 optrad in een uitverkocht Doornroosje Nijmegen. Daarnaast won ze eerder met jazzkwartet Jokithoja een young talent award wat hen de kans gaf om in 2012 een concert te geven met trompettist Rik Mol op het Nijmeegse Easter Jazz.
Momenteel speelt Kika naast haar eigen band met verscheidene formaties en collectieven zoals Wicked Jazz Sounds en treedt ze regelmatig op in duo met pianist Manuel Wouthuysen.
(Foto: Arjen Stada)
21/07/17
Wicked Jazz Sounds
Otis Park, Nijmegen
22/07/17
Wicked Jazz Sounds
Oldenzaal
30/07/17
Wicked Jazz Sounds
Sugarfactory, Amsterdam
12/08/17
Kika Sprangers Large Ensemble
Grachtenfestival
Waalse Kerk, Amsterdam
13/08/17
Kika Sprangers Large Ensemble
Grachtenfestival
Zaandam
15/08/17
Kika Sprangers Quartet
Besloten evenement Grachtenfestival
Amsterdam
PAST CONCERTS/GIGS
24/06/17 Wicked Jazz Sounds Band – WJSF, NDSM werf, Amsterdam
23/06/17 Kika Sprangers Large Ensemble – inJazz, LantarenVenster, Rotterdam
18/06/17 Kika Sprangers Quintet – Ujazz, Witte Lely, Utrecht
16/06/17 Toon Roos – Tivoli Club Nine Utrecht
14/06/17 Kika Sprangers & Manuel Wouthuysen (pno) – Opnames "Talent boven water", Grachtenfestival 2017
09/06/17 Wicked Jazz Sounds Band – Amersfoort Jazz, Amersfoort
05/06/17 Kika Sprangers Quintet, Vrije Geluiden – Kytopia, Utrecht
05/06/17 Utrechtse Jazz Archipel – Culturele Zondag, Utrecht
25/05/17 Kika Sprangers, Martin Fondse en Jörg Brinkmann – Jazzy Huiskamers, Den Bosch
20/05/17 New York Round Midnight "Swingin Harlem" – Almelo
20/05/17 Sanne Rambags, Conservatorium Talent Award – Den Bosch
02/05/17 Kika Sprangers, Martin Fondse en Jörg Brinkmann – Het Hijgend Hert, Breda
17/04/17 Kika Sprangers Quintet – Easter Jazz Nijmegen
1/04/17 "Three Nations Under One Groove" NJJO+NYJO+BuJazzo – Gateshead Jazzfestival, Newcastle UK
30/03/17 "Three Nations Under One Groove" NJJO+NYJO+BuJazzo – King Place, London UK
29/03/17 "Three Nations Under One Groove" NJJO+NYJO+BuJazzo – New Concert Hall, Nottingham UK
25/03/17 Stefan Bos en Kika Sprangers – Goois Jazz Festival, 't Spant, Bussum
24/03/17 Daan Xpress – Seabottom Jazzfestival, Lelystad
19/03/17 Wicked Jazz Sounds – Sugarfactory, Amsterdam
18/03/17 Live on Stage – The Guardian, Hilversum
11/03/17 New York Round Midnight 'Swingin Harlem' – Calypsotheater, Wijk bij Duurstede
10/03/17 New York Round Midnight 'Swingin Harlem' – 't Spant, Bussum
26/02/17 Kika Sprangers Large Ensemble EP RELEASE – Cereolfabriek, Utrecht
17/02/17 Wicked Jazz Sounds – Tivoli Vredenburg Utrecht
12/02/17 Wicked Jazz Sounds – Sugarfactory Amsterdam
04/02/17 Kika Sprangers, Robert Koemans, Alessandro Fongaro (support act van Thailo van Rhee) – Fenix Music Factory, Rotterdam
13/01/17 New York Round Midnight 'Swinging Harlem' – Theater de Speeldoos, Vught
18/12/16 Wicked Jazz Sounds, Afterparty NSJO-tour – Sugarfactory, Amsterdam
17/12/16 Wicked Jazz Sounds, Afterpary NSJO-tour – Annabel, Rotterdam
16/12/16 Wicked Jazz Sounds, Afterpary NSJO-tour – Tivoli Utrecht
15/12/15 Kika Sprangers Quintet – Dizzy, Rotterdam
11/12/15 New York Round Midnight – Theater Goirle
10/12/15 Kika Sprangers, Manuel Wouthuysen (pno), Jort Terwijn (bas) – Fonteyn Festival, Utrecht
06/12/16 Kika Sprangers, Sanne Rambags (voc), Koen Schalkwijk (pno) – Paradox, Tilburg
03/12/16 Wicked Jazz Sounds, Wicked Weekender  – Sugarfactory Amsterdam
27/11/16 Kika Sprangers trio – Café de Bieb, Den Haag
26/11/16 New York Round Midnight – Theater de Maagd, Bergen op Zoom
24/11/16 Kika Sprangers, Koen Smit, Lito Mjabjaia en Gijs Idema (NJJO) – PAN Event, RAI Amsterdam
06/11/16 Wicked Jazz Sounds – Sugarfactory Amsterdam
27/10/16 Kika Sprangers, Manuel Wouthuysen, Tjitze Vogel – Kargadoor Utrecht
23/10/16 Wicked Jazz Sounds ADE met STUFF., DJ Kypski, DJ Phil Horneman, Berenice van Leer – Sugarfactory Amsterdam
16/10/16 Nationaal Jeugd Jazz Orkest and Remy van Kesteren – Harpenfestival Tivoli Vredenburg Utrecht
15/10/16 Nationaal Jeugd Jazz Orkest and Remy van Kesteren – Harpenfestival Tivoli Vredenburg Utrecht
01/10/16 Kika Sprangers en Manuel Wouthuysen duoconcert – Roode Bioscoop Amsterdam
27/09/16 AM.OK orkest directed by Tijn Wybenga – Blue Note Amsterdam
25/09/16 Nationaal Jeugd Jazz Orkest, Bujazzo and NYJO directed by Martin Fondse, Jiggs Wigham and Mark Armstrong – Bimhuis Amsterdam
24/09/16 Nationaal Jeugd Jazz Orkest, Bujazzo and NYJO directed by Martin Fondse, Jiggs Wigham and Mark Armstrong – Domicil Dortmund
23/09/16 Nationaal Jeugd Jazz Orkest, Bujazzo and NYJO directed by Martin Fondse, Jiggs Wigham and Mark Armstrong – Jazz Schmiede Düsseldorf
22/09/16 Nationaal Jeugd Jazz Orkest, Bujazzo and NYJO directed by Martin Fondse, Jiggs Wigham and Mark Armstrong – Landes Musikakademie NRW Heek
20/09/16 Nationaal Jeugd Jazz Orkest – DWDD
19/09/16 Nationaal Jeugd Jazz Orkest wint Zilveren Notenkraker – Paradiso Amsterdam
16/09/16 Kika Sprangers, Manuel Wouthuysen, Thijs van Gemert – Hofman Utrecht
15/09/16 Guus Tangelder Bigband met Thijs van Leer en Vera Westera – Brebl Nijmegen
10/09/16 Try-out Swingin' Harlem New York Round Midnight – Jazzfestival Leusden
04/09/16 Jong Metropole (NJJO+NJO) – MCO gebouw Hilversum